If your home is severely damaged after an earthquake or waterlogged from a flood, all your identity, insurance and asset documents could be lost. Even if your home stays intact, there may not have time to gather these should you have to evacuate for any reason.
One often overlooked item of a emergency kit or bug-out-bag is a document pack. This is where you can keep copies of all your important documents, along with contact numbers and photographs of your family. Remember to place these in a waterproof bag. (If possible, they should also be in a fireproof bag but unfortunately, I have not seen these for sale in the Philippines. If anyone knows where these can be purchased, please let me know.)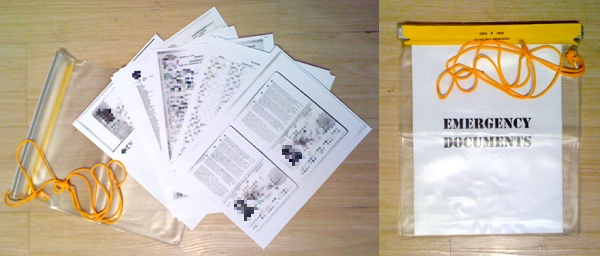 Example contents for your emergency document pack include:
Passports and ID cards
Medical history, immunization records and list of medications
Photographs of each family member with names
Birth, baptismal and marriage certificates
Social Security and TIN numbers
Property deeds
Insurance documents
Bank account, financial details and investments
Wills and trusts
Address and telephone number listing
City map and route to your bug-out location
Cash in large and small notes
Remember that this pack will contain confidential information. If lost, these could be used for identity theft or fraud. One way to protect against this is to write certain things in code. For example, you can include dummy numbers to obscure your real bank account number or code words for important locations.
This way, even if Manila is faced with a complete disaster or catastrophe, you can at least make it easier to rebuild your life. You will have less difficulty proving who you are to the authorities and you'll have a record of your assets.