According to the 2004 Metro Manila Earthquake Impact Reduction Study, the West Valley Fault System is entering its active phases which may result in an earthquake of at least magnitude 7. Of the all the cities in Metro Manila, seven are highlighted as being most at risk of heavy damage and casualties in the event of a massive earthquake. These are:
Marikina
Quezon City
Pasig
Makati
Pateros
Taguig
Muntinlupa
Since governmental disaster management systems will be insufficient to cope with the disaster, it's important that each of us take steps now to reduce its impact.
The maps below will help you assess how you could be affected should Manila be hit by a large earthquake. If you live or work in an area highlighted as having a higher risk, it would be wise to take extra precautions.
GMA News fault line map
GMANews.tv has produced an interactive map showing the Valley Fault System together with nearby landmarks. Hovering your mouse over the red fault line will highlight the landmarks within two kilometers of the fault.
MMIERS Risk assessment maps
The widely referenced Metro Manila Earthquake Impact Reduction Study (MMEIRS) maps out risk assessments for both human loss risk and damage to residential buildings.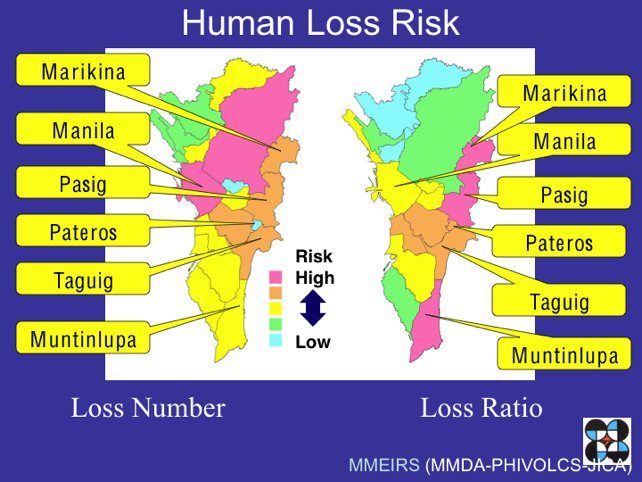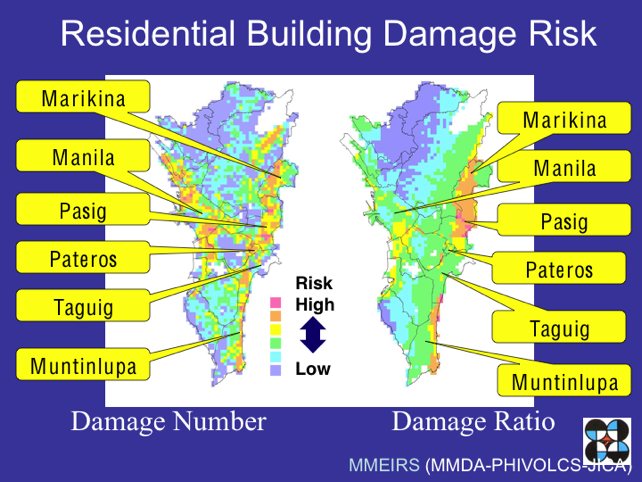 Images source: MMIERS presentation downloaded from newsbreak.ph.
Active faults in the Philippines on Google Maps
Edited 22 Oct 2013: Google map added
Zoom out and scroll to find your province. Zoom back in for your local area.